I've been reliving my young girlhood lately through young adult fiction.
I find it much better than the depressing, political, voilent or immoral stuff written for adults. If I'm going to read I want to be uplifted or transported somewhere beautiful and full of hope and promise. Not instructed on the ugliness and immorality of the world.
Ok, enough soapbox. On to what I've been reading...

First I read Ella Enchanted. I have not seen the movie. Is it good? The book was very fun. I like Cinderella stories. I like any book that takes a traditional story and fills me in on the details that might have been left out of the original telling.

[Speaking of Cinderella stories, I liked this one better than Confessions of an Ugly Stepsister, although that good too. This one still has magic.]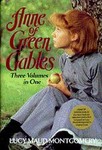 And now I'm reading Anne of Green Gables. I am a HUGE Anne of Green Gables fan. I have been ever since it was first aired on PBS when I was Anne's age. I defy any woman to tell me they don't love Anne of Green Gables. How can you not love all the innocent, beautiful, romanticism in this book? And how can you not love, Gilbert?! Tell me that!
The only thing I've found that Anne and I disagree on is the fact that she doesn't think there is any "scope for imagination in patchwork." I'm afraid that might be a sign of immaturity. :)


But um, here's my confesssion. Although I've been a long time fan of Anne of Green Gables, can quote her, compared my beaus to Gilbert, and just generally wished I was more Anne-like, this is my first time reading the books!

So there hasn't been much sewing going on around here lately. I'm too busy remembering all my young girl dreams and fantasies as I dive into young adult fiction.